With Charlie growing up as fast as he is and always changing I wish I had knew about these portraits when he was smaller as I would have had one made each year so we could see how he changes and when he grew up we could have gifted him with the story of his life. Because art is the "The Best Gift You Can Give": Dori Shasha Art Studio
"The Best Gift You Can Give": Dori Shasha Art Studio Creates Colorful, Framed Portraits Bursting With Personality
LOS ANGELES, Aug. 2, 2017 /PRNewswire/ — Celebrated artist Dori Shasha announces a pair of new websites promoting his unique portrait art gifts, available worldwide. Putting a pop art twist on Renaissance-era portraiture, these handcrafted art pieces make exceptional gifts for anyone, or even for oneself. More information about Dori and his individualized art gifts is available at http://www.dori-shasha-art.com/ and https://www.dori-shasha.com/.
Dori Shasha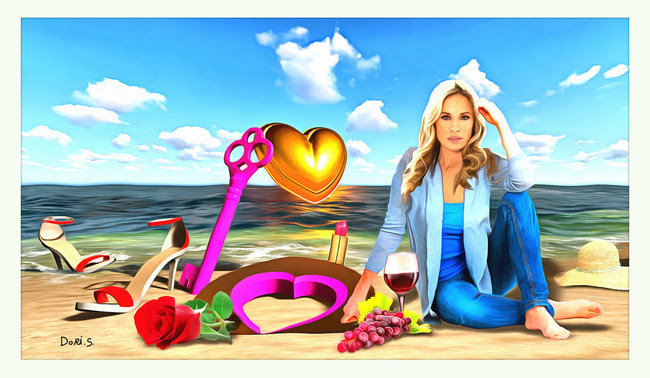 "Art is simply one of the best gifts you can give," says Dori, "and a portrait is a timeless way to capture someone's essence for all to see. My creative process considers that each subject has his or her own point of view, and I strive to see and reflect that in the composition. My goal with every portrait is to showcase the good and positive things in a person's life. And, of course, to create a beautiful, one-of-a-kind work of art that can be proudly displayed anywhere."
To produce a fully realized and detailed individual portrait, Dori needs the kind of information one would find on a typical social media profile. This information should include a person's occupation, hobbies, interests and passions. The objective is to represent the subject as faithfully as possible; anyone who knows the subject and sees the finished portrait should be able to understand the artist's creative choices.
Customers are equally welcome to contact Dori's studio directly to offer all the details necessary for a portrait project. Once the artist believes he has a firm idea of his subject, the work of bringing that idea to life can begin.
As soon as the portrait is complete, customers receive a digital preview from the studio. After signing off on the preview, the portrait is printed on high-quality canvas and stretched onto a wooden frame. Finally, portraits are carefully packed and shipped via express mail.
Dori's distinctive style is richly colorful and provocative; each portrait in the artist's online gallery evokes joy, excitement and bold personality. Several notable celebrities and public figures have been represented in his work, and their responses have been enthusiastic. On seeing her own portrait, businesswoman Randi Zuckerberg exclaimed "This is incredible! So many of the things I love all in one place — thank you so much for this, Dori!"
"Portraits are truly 'lifetime' gifts, bringing joy to both the giver and receiver of the art," adds Dori. "I hope to create many more unique portraits in the years ahead."
The $249 retail price for a portrait from Dori Shasha Art Studio includes printing, framing and delivery; the studio offers a 100% money back guarantee should the customer be unsatisfied for any reason.
About the Artist
Dori Shasha has been involved in the creative arts in one form or another since childhood. His professional career has intersected with fields as diverse as modeling, architecture, writing and graphic design.
Contact:
Dori Shasha
972-3-5342178
170002@email4pr.com
Let me know if this is something you would like to have done and if so whose protrait you would like to have turned into art and why you choose that individual.
Thank you,
Glenda, Charlie and David Cates