This is a #Sponsored post for Groupon Goods and The Mommy Files.
Well  it is  time to return to school for Charlie. And David, Charlie and  I are still discussing if Charlie will remain at home one more year for Homeschooling. Or if Charlie  will return to Public School.
So this morning David was outside running errands by the school and David  ran into one of the vice-principal. And this  vice principal mentioned to David that both the principal  and the other vice principal had both been fired. And with them being part of the reason Charlie is no longer in that school, we now need to sit down with Charlie and decide if he will return to school or remain at home for one more year of Homeschooling.
So no matter what we decide I like having books and workbooks here for Charlie to use. Especially to help promote learning during the Summer and also the Holidays. So if you would like to find the perfect items for your children for Back to School I hope you check out Groupon Goods as well.
Because as I checked out Groupon Goods I found  one of the workbooks I would like to get for Charlie and it is from  Zoobooks Animals Anatomy Set with 2 Bonus Books as we can use these books to learn more about the animals Charlie enjoys seeing. And if we are  Homeschooling  this year we can use these books for Science and Social Studies.

Then as I looked around Groupon Goods I also found this set of books called Learn to Draw Instructional Books for Kids 2 Pack so we can do our Art work. Because I am horrible at drawing.  So Art isn't a class I could teach Charlie. So without these books from Groupon Goods will allow me to make sure Charlie is able to take the classes he needs to take.
So with Christmas right around the corner I would like to let you know there is also items for everyone on your Gift Giving list. As well as items we can use in our home as we are remolding parts of our home. And this includes our yard as we are putting in flowers and grass and a small garden for Charlie.
And one of the  items I found for  for our garden is the Pre-Order Triumph Tulip Mixture(50 Bulbs) as Tulips was both my grandmothers and Suzzane's favorite flowers and it would mean I would have a part of them with me every time we walk outside.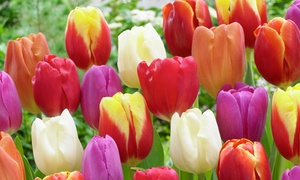 So if you haven't heard of Groupon Goods or used Groupon Goods the past I would like to let you know Groupon Goods is  free to sign up with and that it will help you save on all kinds of itemsnot only for the home but School Supplies, clothes, jewelry home and garden items and so much more.