Good morning, Charlie is now back in public school and we are having so many issues with the resources they are teaching Charlie that I still do a lot of Homeschooling with Charlie so I can make sure he doesn't fall behind. When I work with Charlie  I like to use free resources whenever possible. So I thought you might like having "A Huge Round-Up of Homeschooling Freebies" you can check into with your children or students.
The first site I would like to recommend you check into is Educents and if your looking to make extra money they you need to make sure you join Educents affiliate program and to sign up Please use my link. Now that we have business taken care of I have a fun tip for you about Educents.  Which you might not know. Educents has over 500 free items for you to use in your Homeschooling journey. Educents always runs sales that you should check into as it will allow you to save money on your Homeschooling resources.
The Lab of Mr. Q Free Secular Life Science Curriculum
The entire Life Science curriculum is totally free so I would like to recommend  you check out the Life Science program. This program is for those who are using a secular curriculum. The Lab of Mr. Q  products are incredibly affordable and this program was written by a Science teacher.
The Math A Tube is dedicated to helping parents and their kids with math.  MathaTube website you will explore the world of math. Together we will understand math the way it is taught in Schools today. Together we will learn!
K5 Learning provides online reading and math enrichment for students in kindergarten to grade 5. K5 Learning personalized online program allows students to learn at their individual level, at their own pace, in their own home.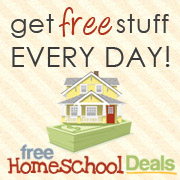 FreeHomeschoolDeals.com! you will find a growing collection of free homeschooling printable for all stages and ages made just for you by the FHD printable contributors!

Math Worksheets Dynamically Created Math Worksheets
Math-Aids.Com provides free math worksheets for teachers, parents, students, and home schoolers. The math worksheets are randomly and dynamically generated by our math worksheet generators. This allows you to make an unlimited number of printable math worksheets to your specifications instantly.
Free Financial Curriculum for Educators
Whether you're a classroom teacher, a program director, or a college instructor, you understand the importance of a solid financial curriculum. By, using Hands on Banking®—the free, fun, and engaging financial program from Wells Fargo—you can help students of any age build a brighter financial future.
The Hands on Banking online financial courses include free instructor guides with classroom lessons and activities that will help you guide students through real-life scenarios, group discussions, and other activities designed to teach valuable money management skills and help them take control of their finances. All without endorsements or commercials.
The Hands on Banking curriculum is designed for four age groups:
Kids—4th and 5th grades
Teens—6th through 8th grades
Young Adults—ages 15 through 21
Adults
Money Skills, Personal Finance, Careers, Life Skills: Lesson Plans, Lessons, Worksheets, Activities
Money Skills, Personal Finance, Careers, Life Skills: Lesson Plans, Lessons, Worksheets, Activities
These top-quality financial literacy materials, including classroom modules, games, DVDs and brochures, are free and available for access now by all educators, parents and consumers. Click "Download" to download an item, or "Add to Cart" to receive it by mail.   Free Materials
Educating students about Internet safety can be difficult, especially with constantly changing technologies and classroom time constraints. These resources can help.
Welcome to our free sheet music dedicated page. All our items include PDF sheet music files, MIDI and Mp3 audio files. You may also find Mp3 music accompaniments on selected items. Everything you see online is instantly downloadable. Please, do consider to Become a Member for only $37.75 for exclusive access to over 100,000 titles, and much more… enjoy!
Welcome to An Old-Fashioned Education I'm Miss Maggie, owner and creator of Old-Fashioned Education. You'll find here a directory of free homeschool curricula, literature and text books organized for the use of homeschooling families
10 Tips for Homeschooling On A Budget
10 Tips for Homeschooling on a Budget is a must read article if your just getting started with Homeschooling or even a old hand as there are so many tips on 10 Tips for Homeschooling on a Budget that I didn't know about.  I am sure you will find new  resources to check out as well.
About Us: Brought to you by USA.gov, Kids.gov is the official kids' portal for the U.S. government. We link kids, parents and teachers to information and services on the web from government agencies, schools, and educational organizations, all geared to the learning level and interest of kids.
13 more ways to score free homeschool curriculum
I began Homeschooling Charlie I spent a fortune on workbooks because I wasn't sure what I needed to teach Charlie. Also, I didn't know I could find free resources to use in our classroom. Today I would like to ask you to check out 13 more ways to score free homeschool curriculum, 13 more ways to score free homeschool curriculum will allow you to save money especially on items you find you might have purchased and didn't need after trying out free resources for those items.
200 FREE Educational Resources from Open Culture
FREE Resources and Lesson Plans on Environmental Health from the EPA
Find an array of environmental and science based lesson plans, activities and ideas below from EPA, other federal agencies and external organizations.
You will need Adobe Reader to view some of the files on this page. See EPA's About PDF page to learn more.
FREE Booklets, posters and more on different topics from the US Dept of Education.

Find an array of environmental and science based lesson plans, activities and ideas below from EPA, other federal agencies and external organizations.
Hello, Earth Kids!
My name is Nebula. Welcome to NASA Kids' Club – a place to play games and learn about NASA!
FREE Classroom Resources from the CDC
Science Ambassador Workshop : A 5-day professional development workshop for selected middle and high school STEM educators to collaborate with CDC scientists in creating public health lesson plans aligned with National Science Education Standards.
CDC Learning Connection: A one-stop learning resource that can help increase public health knowledge and skills and meet professional development needs.
Teacher Professional Development (David J. Sencer CDC Museum): Offers professional development teacher workshops designed to support science education and the incorporation of public health concepts into existing classroom curricula.
Free Dog Safety Checklist from the American Kennel Club
Dogs can be fun to play with, but remember – a dog is not a toy. Always be kind and gentle with your dog, and never poke, step on or pull your dog's hair, ears or tail. And check out this Safety Check List for Children.
Free lesson plans and unit studies for Scholastic
Thousands of free lesson plans, unit plans,discussion guides, and extension activities.
Free Lesson plans from Discovery Education 
Discovery Education combines scientifically proven, standards-based digital media and a user community in order to empower teachers to improve student achievement. Free lesson plans written by teachers for teachers. Here you will find hundreds of original lesson plans for elementary, middle and high school students. Use them as they are or modify them to create your own.
Don't just learn civics – play civics! Run for president. Pass new laws. Argue real cases.
Find free resources, tools, and support for informed and engaging civic learning!
Free Bible Lesson Plans (these are geared toward younger kids)
DLTK's Crafts for Kids features a variety of printable children's crafts, coloring pages, worksheets and activities including projects for holidays, educational themes and some of our children's favorite cartoon characters.
POV offers free resources for educators, including 200+ online film clips connected to 100+ standards-aligned lesson plans, discussion guides and reading lists. Registered educators can use any of 80+ full-length films in the classroom for free through our documentary lending library.
Free Lesson Plans from Wolfram Alpha
Lesson Plans
Wolfram|Alpha is illuminating knowledge from education advocates, teachers, and students. Browse our collection of lesson plans from educators who use Wolfram|Alpha in the classroom. Submit your own lesson plans to be included on our site using the button below.
Free Lessons from the Bill of Rights Institute 
Our free e Lesson newsletter helps teachers connect America's Founding principles to students' lives. Delivered directly to your inbox, each e Lesson includes historical content, connections to real life, classroom activities, downloadable PDFs, answer keys, discussion questions, and/or suggestions for further reading. Two e Lessons will be sent each month and will cover a variety of topic areas to engage today's students. Update your profile to make sure you're subscribed!
Free Poetry Lesson Plans from Poets.org
The Academy of American Poets presents lesson plans, most of which align with Common Core State Standards, and all of which have been reviewed by our Educator in Residence with an eye toward developing skills of perception and imagination. We hope they will inspire the educators in our community to bring even more poems into your classrooms!
Created by classroom teachers and our education department, The Civil War Curriculum is an easy-to-use, interdisciplinary, resource-rich guide for teaching the American Civil War. Explore the lessons online and download PDFs and materials.
Free Astronomy Curriculum
Digitalis Education Solutions provides these curricula free of charge as a public service to encourage the teaching of astronomy. It consists of astronomy lesson plans for use for kindergarten through twelfth grade students.
Free Engineering Lesson Plans and Curriculum 
TryEngineering.com offers a variety of lesson plans that align with education standards to allow teachers and students to apply engineering principles in the classroom.
Education plays a vital role in connecting people with wildlife. Through programs, curriculum, scientific reports, and more, the National Wildlife Federation is furthering knowledge about nature and wildlife, and inspiring future environmental stewards.
Free Homeschool Planning Forms
If you have browsed the Homeschool Planner section of donnayoung.org, you might have found that there are different types of papers that make up a homeschooling planner. There are papers for the Lists that you need, forms for Administrative purposes, and finally the Lesson Planning Forms.
Free Tech lessons from Google (use the drop down menu's to sort)
Helping millions of students and educators develop technical skills for the future.
More than 65% of students will work in jobs that don't even exist today.¹ We want to help prepare them for that future by getting them excited about where computer science (CS) can take them. So we're building programs and supporting partners that reach millions of students every year, with a focus on girls and others who are underrepresented in the field today.
Free lessons on Colonial Williamsburg
Here's a sampling of our free lesson plans, created by teachers, for teachers!
Free Safe Internet Surfing for Kids curriculum 
Dedicated to helping families surf the Internet with awareness, safety, and knowledge
The Internet can be a confusing and dangerous place. Without a safety net, many people can fall into the danger zones of pornography, predators, online scams, Internet viruses, and spyware. With such free access to the Internet around the world, many have abused it as an opportunity to take advantage of others.

Find the latest news and press releases here about our work in the water and sanitation sector.
Free Nutrition Games and Lesson Plans (they also have one on gardening)
Free Mystery Lesson plans
(for critical thinking offering Free lesson plans, ideal and online mysteries to teach critical thinking and reading comprehension.)
The Library of Congress offers classroom materials and professional development to help teachers effectively use primary sources from the Library's vast digital collections in their teaching.
Find Library of Congress lesson plans and more that meet Common Core standards, state content standards, and the standards of national organizations.
KidsHealth in the Classroom offers educators free health-related lesson plans for all grades and subject areas. Each Teacher's Guide includes discussion questions, activities, and reproducible handouts and quizzes – all aligned to national health education standards.
Free Curriculum from Ambleside Online (Charlotte Mason based)

AmblesideOnline is a free homeschooling curriculum that uses Charlotte Mason's classically-based principles to prepare children for a life of rich relationships with everything around them: God, humanity, and the natural world. AO's detailed schedules, time-tested methods, and extensive teacher resources allow parents to focus effectively on the unique needs of each child.
The AmblesideOnline library hosts a large collection of original Charlotte Mason materials, which have been digitized by our volunteers. In addition, our community offers a wide variety of resources for homeschooling parents and Charlotte Mason educators: a support forum, an archive of wisdom from experienced Charlotte Mason educators, as well as original and current books and articles about Charlotte Mason's living ideas.
Free Complete Curriculum from Easy Peasy All in One
We exist to help families homeschooling. We enable families to homeschooling who thought they couldn't because of a lack of finances, a lack of time, or a lack of know-how. Others join EP just because it's easy and fun and they're confident of the quality of education. EP seeks to free families from the burden of pursuing the "perfect" and encourages them to let it be "enough." Each family and each child is different and we seek to provide the resources to enable your family to be who you were meant to be.
Free Polar Bear Unit & Lessons
Polar Bears International believes busy teachers need all the help they can get. That's why we're happy to provide access to free unit plans and lessons created by professionals on a range of topics that support literacy standards and learning outcomes for specific school districts.
Thank you,
Glenda, Charlie and David Cates