Good morning, How are you today? How was your weekend? I am not sure about your children but Charlie is out of school this morning. In fact he was also out on Friday. So we have been practicing his
math facts
and doing a lot of reading this weekend. As we begin a new week I thought I would share with you a new website where our children can check out some new
math resources
.
The new website is called
Math Cats
: Fall Math Idea Bank and one thing I love about it is the kids don't need the Internet to use this site. So come check out
Math Cats
and let me know what you thought of it. Or if you have used
Math Cats
in the past what did you like about it and what didn't you like about it and why?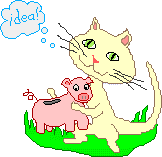 Age Range: 5-10 (Grades K-5, with parental supervision)
Fall is here! At this website you'll find
free, fun, fall-themed math activities
.
The activities include:
Leaf Math – Seeking a symmetrical leaf
Spider Math – Draw a perfectly symmetrical spider.
Pumpkin Math – Make estimates.
Once you've had fun with the fall math activities, check out the rest of this wonderful
math
website for elementary grade kids.
Discover EXACTLY how old you are – in hours, minutes, and seconds.
Try to balance objects – ranging from electrons to galaxies!
Play 12 math games online!
Polygon Playground – Explore symmetry and tessellations!
Math Crafts – Make string art, polyhedra, hexagrams and more!
Thank you,
Glenda, Charlie and David Cates